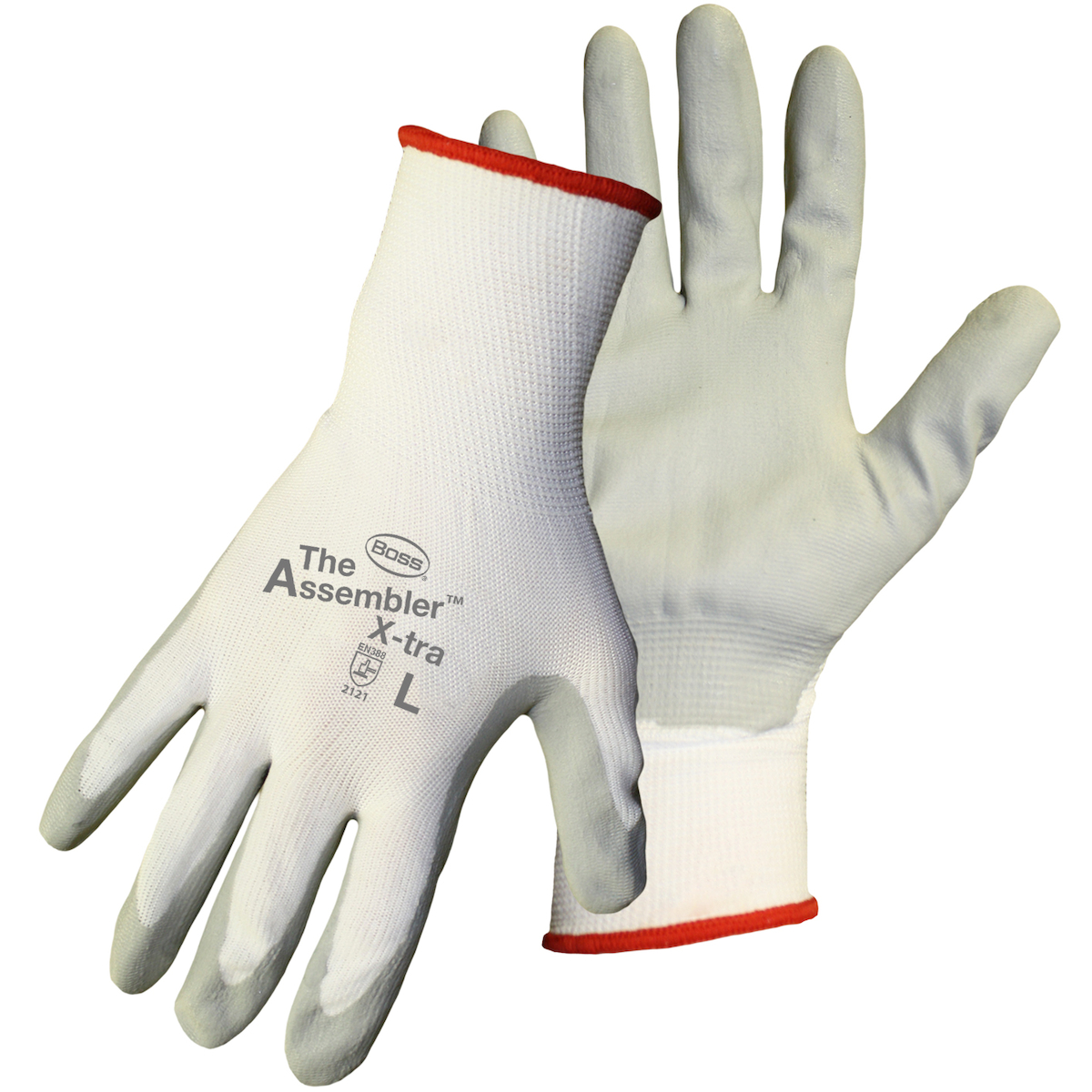 Boss®
Seamless Knit Polyester Glove with Nitrile Coated Foam Grip on Palm & Fingers - DISCONTINUED
1UH7805
SIZES: S-XL
Packed: 144 Pair/Case
STOCK TYPE: Discontinued, inventory may be limited
Country of Origin: China
Liner Material:

Polyester

Coating:

Nitrile

Grip:

Foam

Gauge:

13
Liner Material: Polyester
Polyester: Polyester is a synthetic fiber that offers good abrasion resistance and an amount of chemical resistance.

View All Polyester
Coating: Nitrile
Nitrile: Nitrile is a synthetic rubber compound that offers excellent puncture, tear and abrasion resistance. Nitrile is also known for its resistance to hydrocarbon-based oils or solvents. Nitrile coated gloves are the first choice for industrial jobs which require handling of oily parts. Nitrile is durable and helps to maximize protection.

View All Nitrile
Grip: Foam
Foam: Available in Nitrile, NeoFoam® and PVC, foam coating cell structure is designed to channel fluids away from the surface of the object helping improve grip in slightly oily/wet conditions. Secure grip in dry conditions. Oily/wet grip varies with density of cell structure.

View All Foam
Product Description
Ideal for general assembly of oily parts, metal handling, fishing and machine operation.
Features
Breathable Back
Knit Wrist With Color-Coded Hem
Palm Dip Of Absorbent Open-Cell Foam Nitrile
13 Gauge Seamless Polyester Shell
EN 388: 2121 (Cut Level 1)
Seamless Knit
White Polyester Shell
13 Gauge
White Nitrile Coated Foam Grip
Palm & Fingertips
Knit Wrist
NOW w/ DISCOUNTED PRICING!
EN388 Results: 2121XX
EN 388 2016 Results:Abrasion: 2Cut (Coupe Test): 1Tear: 2Puncture: 1Cut (TDM-100 Test): XImpact Protection: X
EN 388 is a European Standard. Cut Level is determined by the number of cycles it takes a spinning circular blade, that is pulled across the material under a constant weight of 500 grams, to cut the fabric. As the number of cycles increase, so does the glove's ratings. Click here for more information about the EN 388 2016 standard.
Request A Sample